PROFINET

JCOM Automation Inc. offers the full line of products from PROCENTEC and Helmholz. Below is a highlight of some of the more popular items:
PROFINET Cable tester
If you do not want your house to fall down, you need a solid foundation. The foundation of your PROFINET network are your cables. A good cable tester is essential for this. And PROCENTEC has a great one.
It is a robust tester which has been especially designed for PROFINET and suitable for industrial environments. With just 1 key-press the test result is directly displayed and continuously updated.
If a cable did not pass the test, it will clearly indicate what the problem is and which wires/pins are affected. This product does not require special skills. It is easy to use and gives the technician quick and understandable feedback about the quality of the wiring. It can also be utilized on all other Ethernet networks with 4-wire and 8-wire shielded cables.
This outstanding tool that fits in your pocket will boost the efficiency of installers and maintenance technicians.
Product features
Suitable for 4- and 8-wire PROFINET and regular Ethernet cables (CAT6, CAT-5E, CAT-5, CAT-4, CAT-3).
Suitable for straight and 90°, metal or plastic PROFINET plugs.
Tests cable shielding!
Detects short circuits, wire breaks, swaps, miswiring and split pairs.
Large LCD clearly indicates the test results.
150 hours on one 9 V battery.
Operating temperature: 0 to 50 °C.
Just 1-key-press to start continuous testing
It can also test telephone and coax cable.
Netilities – PROFINET diagnostic and engineering tool
Netilities generates a live list of the PROFINET/Ethernet network and spots the devices which are in Data Exchange. Statistics provide an overview of the network condition. A detailed report provides information about the reliability of the PROFINET network.
Netilities utilizes the standard Ethernet/WLAN port on the PC or interfaces with a ProfiTap.
Info fields are displayed to inform the user on actual network problems, like: device missing, double device names, double IP addresses, etc. The Statistics provide an overview over the cycle times, corrupted telegrams, data size, etc.
Netilities is also used to set Device Names and IP addresses and export the detected devices to CSV. The LED test feature can visualize the targeted PROFINET device. The best performance of Netilities is achieved when the laptop is directly connected to the mirror port of a switch which is installed directly behind the PLC or other controller.
The licensing and software storage is handled by a USB dongle. The dongle can be used on multiple PCs.
Features
Realtime scan / Live List of the complete network
Info panel for network problems (device missing, double addresses, etc.)
Statistics (cycle times, corrupted telegrams, data size, etc.)
Setting Device Names and IP numbers
Topology scan based on SNMP
PROFINET LED test
Detailed reporting
Suitable for other Ethernet systems
ProfiTap Industrial – PROFINET Monitoring Interface
The monitor port of switches is unreliable for monitoring; it can be occupied or is not forwarding all traffic. The load on the Ethernet port of the laptop is also too high with IRT applications because 2 channels are merged in one. The ProfiTap has a USB link with the laptop that streams the captured messages to the accompanying driver, which emulates an additional Ethernet port on the laptop and hands the messages over to any application.
The ProfiTap also prevents the laptop to send out messages on its own initiative, which could jeopardize the real-time behavior and security of the network.
Product features
Usable for most PROFINET/Ethernet monitoring tools
No loss of messages
Time stamped messages
Does not endanger the real-time behaviour
No security hazards
Is not visible for switches/devices
Grounding concept is not disturbed
Driver works on XP, Vista and Window 7 platforms
Ethernet Switches
Helmholz makes both a 4 port and 8 port managed switch! The switches have a small footprint taking up minimal panel space but with all the functionality that you need. They have been certified for use in a PROFINET system but also works well for Ethernet IP and Modbus TCP. 
Just in case you are wondering, Yes you do want a managed switch! You can save some money by going with an un-managed switch but the first time your network has an issue, you are going to wishing that you had a managed switch will all the diagnostics!
PROCENTEC has recently added a line of both managed and un-managed switches. We will be adding more information as it is released.

PROFINET Connectors
PROFINET and other Industrial Ethernet protocols do not use your standard RJ45 connectors. They use special industrially hardened connectors with grounding of the shield. Helmholz makes a very easy to use connector. It is color coded and simple to install.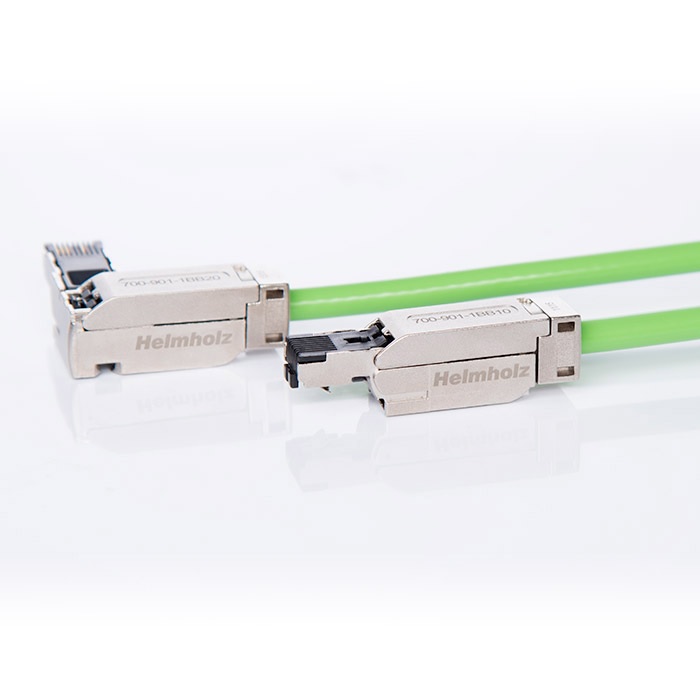 The field-assembled RJ45 connectors for PROFINET, EtherCAT, and Modbus are easy and quick to install. The industrial-grade metal housing provides the necessary ruggedness so that the plug can be used in many industrial applications.