JCOM Automation Inc. offers the full line of products for PROFIBUS from PROCENTEC, Helmholz and Thorsis Technologies:
ProfiTrace Family of Bus Monitors
ProfiTrace is the most powerful analyzer for PROFIBUS networks on the market today. It is an essential tool for monitoring, maintenance and fault-finding. It comes in three forms:
ProfiTrace Mobile Analyzer
Mercury Tablet
COMBRICK permanent monitoring system with built-in ProfiTrace
ProfiTrace Mobile Analyzer 
ProfiTrace is very easy to use and combines all the required elements to detect all PROFIBUS faults. The use of this mobile analyzer results in higher up-time, lower operational costs and the optimization of the entire production process.
Thousands of satisfied users benefit daily from this powerful tool. Typical PROFIBUS failures such as noise, reflections, voltage drops, termination problems, double addresses, wire breaks and configuration faults are easily and quickly identified. As a result, PROFIBUS faults can be quickly resolved which results in higher uptime. ProfiTrace boosts the capabilities of service, maintenance and engineering technicians.
With the built in oscilloscope noise, reflections and termination problems can be detected. There is an interpretation of bits, bytes and words. All messages can be filtered and stored.
The message recording provides an overview with recorded messages. When the user records messages, he has a perfect visual representation on the screen.
The statistics matrix and network condition indicator are the most powerful features of ProfiTrace. These fields can really tell what the condition of the installation is without doing difficult operations.
The Live List is a matrix that continuously lists all the available devices. It clearly indicates which devices are 'troublemakers'. With different background colors, the status of the devices are displayed.
12 Mbps (all baudrates)
Galvanic isolated PROFIBUS interface
Latest RS 485 technology
High-speed USB 2.0 interface
External power supply possible if required
Selectable types and modes
Signal quality in color
Sorted on address or Voltage
Continuously updated
Complete integration of ProfiCaptain
Putting slaves in Data Exchange
I/O control with automatic patterns
Automatic detection of bus parameters
Brand new concept of 'stealing' slaves
Class 2 functions in a Class 1 framework
No shutdowns when updating the configuration
Deactivating slaves in the configuration
Generation of a detailed network report
Summary of detected errors
Standard layout for signatures and approvals
Import of company logo
The PROCENTEC Mercury is a robust tablet which features our new cross platform software package. This device is perfect for troubleshooting, maintenance and monitoring of Industrial Ethernet and PROFIBUS networks. Mercury enables you to gain insight into the health and possible faults in your industrial network. While developing this innovative product, the user was, and remains, the first focus. This means Mercury offers remote and wireless connection, and mobility anywhere and anyplace.
Mercury is based on the same software as the PROCENTEC Atlas for constant monitoring of Industrial Ethernet diagnostics and therefore offers the same Ease-of-Use and intuitive user interface.
When combining Mercury with ProfiTrace, it offers a new software package for troubleshooting PROFIBUS networks!
ComBricks – Constant Monitoring and networking
ComBricks is a multiport repeater with built-in ProfiTrace. As such it is a permanent monitoring system for PROFIBUS. This is a Maintenance persons dream come true for troubleshooting PROFIBUS. The big advantage that the COMBRICK has is that it has a history of what has happened to your network.
It offers the perfect solution for diagnosing and designing networks in an area where there is a shortage of qualified technical staff and a huge amount of pressure on system availability. ComBricks allows technicians to remotely monitor PROFIBUS installations from anywhere in the world and will alert them by email if any faults arise. Therefore, faults can efficiently and quickly be solved. This reduces downtime and optimizes the entire life cycle of the installation.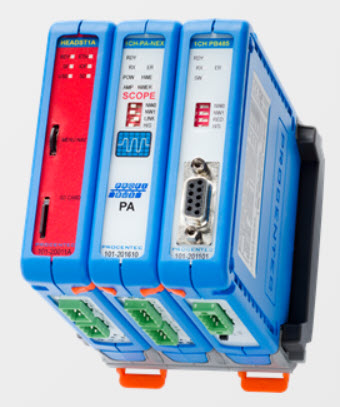 PROFIBUS DP to PA Gateway
PROCENTEC's COMBRICK can also be an invisible gateway from PROFIBUS DP to PROFIBUS PA. This is an excellent way of connecting PROFIBUS PA instruments to your main DP network. 
The transparent PROFIBUS PA link/coupler enables seamless high speed integration to PROFIBUS PA. It powers the attached PA devices and fully emulates them as DP devices on the backplane. Adjusted busparameters are not required and therefore suitable for all DCS and PLC systems, even running on 12 Mbps.
A coupler is an easy way for two separate networks to share information. The coupler is a slave on both networks. The inputs on one network becomes the output on the other network.
Helmholz has an excellent PROFIBUS DP to PROFIBUS DP coupler.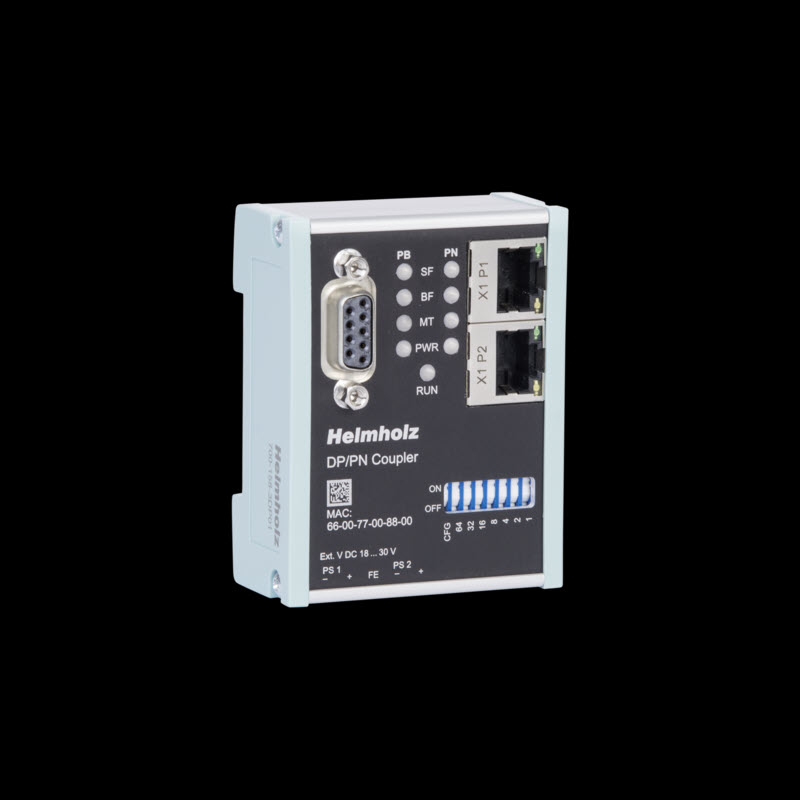 With the new DP/PN Coupler, a simple and uncomplicated connection of PROFIBUS to PROFINET is possible. It allows data transfer between a PROFIBUS master and a PROFINET controller. The maximum size of the transmitted data is 244 bytes of input data and 244 bytes of output data. The DP/PN Coupler is projected via a GSD file on the PROFIBUS side and a GSDML file on the PROFINET side. No additional configuration software is necessary.
On the PROFIBUS-DP, the DP/CAN coupler is a normal participant.
The I/O data of the CANopen® participants is shown in the PROFIBUS in a transparent and freely configurable manner.
The DP/CAN coupler is integrated in the hardware configurator with a GSD file and can be completely configured there. Additional tools are not necessary.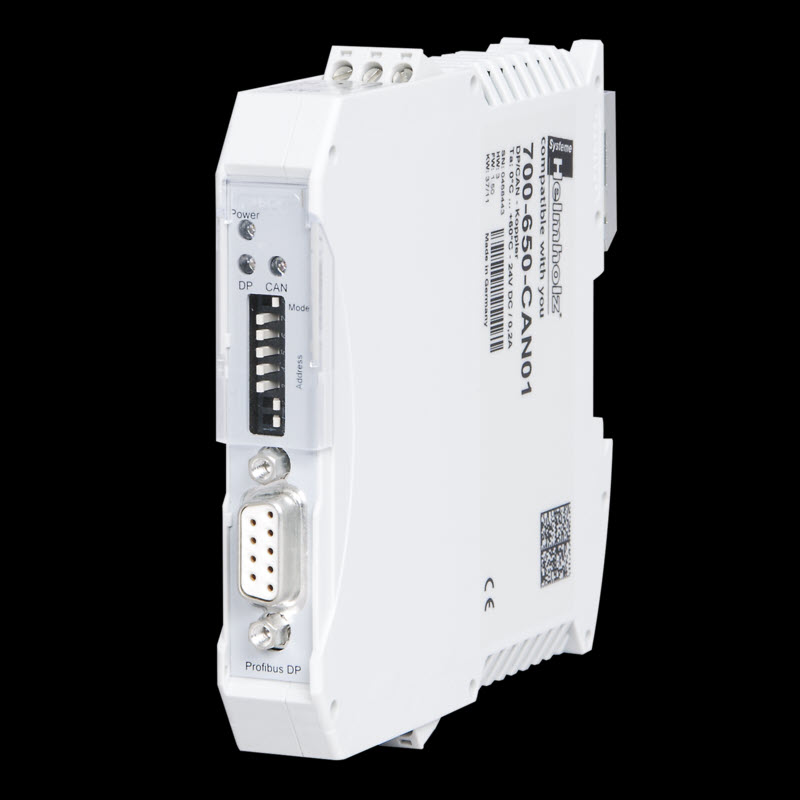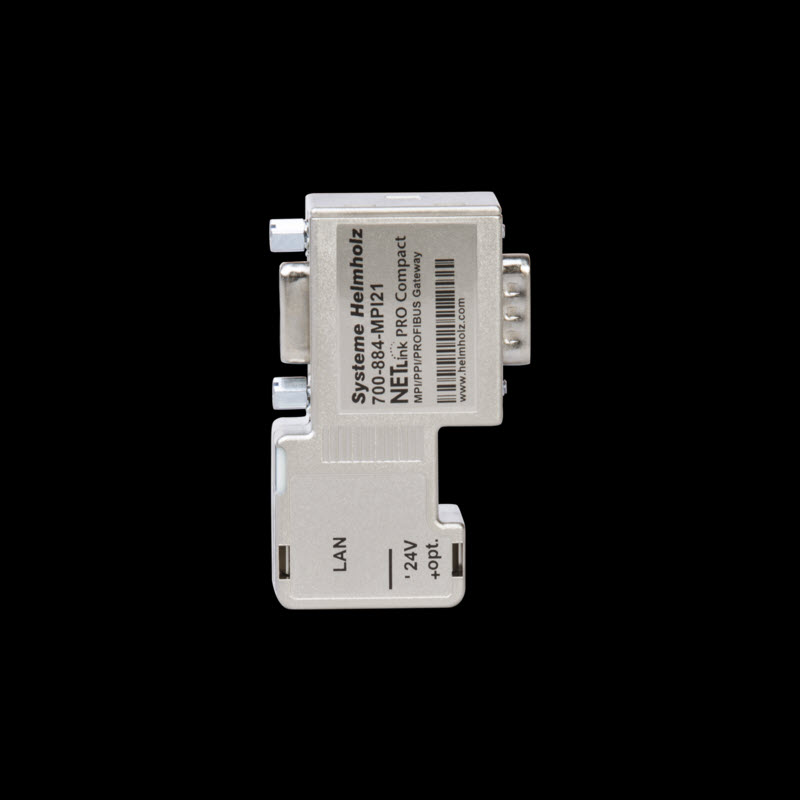 NETL ink® PRO Compact, PROFIBUS Ethernet gateway
In general, connection to each MPI/PROFIBUS terminal of the bus system or directly at the interfaces of active and passive participants is also possible. The PG socket integrated in the connector housing allows connection of additional devices.
The integrated web interface offers parameterization, diagnostic, and security features, and for functional enhancements, the user can use our free diagnostic software SHTools to, for example, automatically perform firmware updates. The latest version is available for download.
he NETL ink® PRO Compact is a communications processor in the plug format for programming, visualization, and remote maintenance. It combines flexibility and a compact design. Power is supplied to the NETL ink® either through the CPU of the automation device or externally with DC 24 V as an option. The network connection can be used with any standard Cat-5 cable, making cable lengths up to 100 meters feasible without additional components.
USB to PROFIBUS Interface
Desktop PCs, as well as notebook devices, can be connected to a PROFIBUS fieldbus within seconds based on the plug & play features of USB. Operational areas are mobile set up and configuration of field devices. More more complex operations the parallel use of up to 16 PROFIBUS USB adapters connected to one PC is also possible. The adapters are USB bus poweredand are not dependent on external power connections.
The interface supports the Master functionality of the PROFIBUS Standard DP (class 1 and 2) and DP/V1 (class 2). Its high transmission rate of up to 12 Mbit/s is of special interest for fast application in the manufacturing process like drive set-up and diagnosis. To guarantee short cycle times and low latency, the PROFIBUS firmware is running on a dedicated Microcontroller. A Dual Ported RAM decouples the firmware from the performance of the PC.
For data access to connected PROFIBUS slaves, an optional OPC-Server isPro Multiserver is available. Furthermore, the driver software contains a communication DTM isPro CommDTM for data access according to standard FDT 1.2, that is commonly used for parameterization of PROFIBUS slaves. Also, the PROFIBUS USB adapter can be integrated easily into own applications due to the uniform API-DLL. A developer manual with the description of the function calls is available as well as header files and examples in C/C++ source code.
Repeaters and Terminators
PROCENTEC is well-known for providing the best repeaters perfect for splitting PROFIBUS DP networks.
The well-known ProfiHub family is a collection of multi-channel PROFIBUS DP network components to create reliable flexible star/tree networks and long multi-device spur lines. They are essential to obtain better control during maintenance and upgrading of the network. The use of ProfiHub results in lower operational costs and the optimization of the entire production process.
One new innovation is the ProfiSwitch which lets each segment have a different baud rate. This is a real game changer since it allows each segment to be optimized to the best baud rate. Ideal for combining DP/PA Couplers, radio modem, or other slower DP devices or long wire runs.  ProfiSwitches are transparent to all traffic, so switches do not need to be configured. All devices and diagnostics are seen at the top level, even with the baud rate differences.
All Repeaters, ProfiHubs and ProfiSwitches are equipped with total galvanic isolation. Behind each repeater a segment is created that is able to handle 31 devices with a cable length determined by the bit rate of that segment. Each repeater blocks short circuits and other bus problems. The ProfiSwitch is also able to customize the baudrate on each channel.
Examples of application areas
Create spur lines to devices.
Star, tree and bus structured networks.
Adding to legacy systems with Baudrate limitations
Couple PA and Wireless within one network
Barrier for non-isolated equipment.
EMC sensitive applications.
Applications with device and cable stress.
Helmholz has been making connectors for a long time and have an excellent product line with almost every combination of features that you would ever want. We offer straight through, 90 degree, 45 degree, screw terminals, quick connects, with programming port, with-out programming port. Please contact us, and we can help you pick the best one for you!
We stock the most common configurations!
HP-25 PROFIBUS Cable Tester
This small easy to use handheld device checks for the most frequently found cable connection faults seen on PROFIBUS DP. The software checks for:
Open lines
Short circuits
Crossed connectors
Reports on the number of terminators
This device works with DB-9 connectors and with adapters can also work with M-12 connectors. Please note that it can only work on a cable network that is not plugged into anything. In other words, the network must be down to do this test.
It is a perfect tool for commissioning. It is also very useful for troubleshooting a network that is down.
The TB20 distributed IO system, made by Helmholz, is a high quality IO system that can fit onto a wide variety of buses (PROFIBUS, PROFINET, CAN-bus, Modbus TCP, Ethernet IP, EtherCAT) and comes in a very small footprint.
This is a low-cost, high quality I/O rack. Please see our TB20 product page for more information.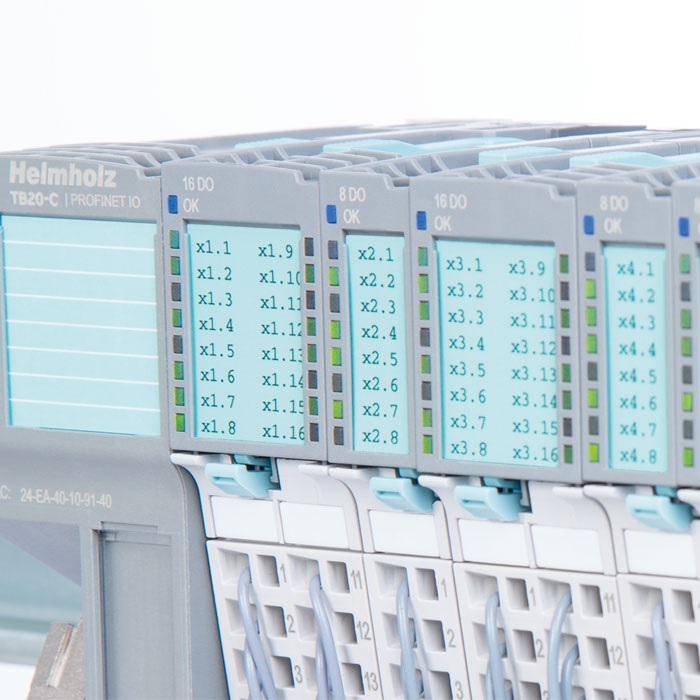 We offer training courses!
JCOM Automation Inc. offers high-quality, hands-on training. Our courses have a lot of labs, and we have all the latest equipment, including state of the art diagnostic equipment. We offer training on; PROFIBUS, PROFINET, Ethernet IP, Modbus TCP, Modbus RTU, and  HART. For a quote on a course, please contact us directly.
We are a certified training center for PROFIBUS PROFINET International for both PROFIBUS and PROFINET, which guarantees high-quality training.
Check out our course schedule, or get in touch